(Above, steamboats docked at the Port of Pocahontas, 1890's.)
The historic Port of Pocahontas, Overlook Park today, was a busy place between 1810 and the early 1900's, when the railroad replaced the steamboats. It was a primary reason for the City being built here. Thanks to the water flow provided by the Fourche, Current, and Black Rivers merging just upstream from the port, Pocahontas is the northernmost point in Arkansas for year around river navigation. The Port served a large hinterland to our east, west and north.  In the absence of decent roads, most goods in and out of the area came by river—flatboats and keelboats in the early part of the 1800's, and steamboats after 1828.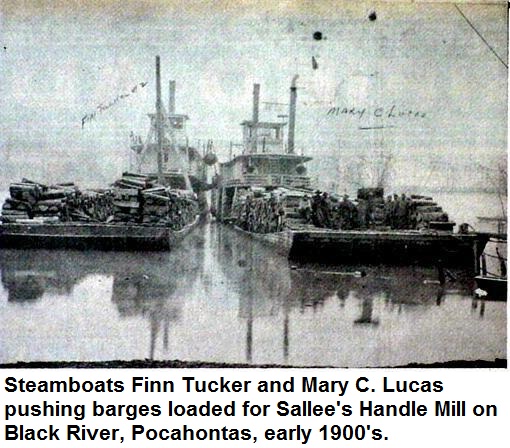 From 1840 to 1851, the Port of Pocahontas recorded more freight in and out than any other port in Arkansas.
The Port area was a fairly exciting place, with passengers and river men arriving and departing, saloons, bawdy houses, fights, and so forth were located in that area.
River traffic after the Civil War helped rebuild the town (which was burned by the "Yankees") and the devastated area that was Randolph County.
https://seerandolphcounty.com/wp-content/uploads/2013/07/pocahontas-boats.jpg
505
640
Bill Carroll
https://seerandolphcounty.com/wp-content/uploads/2018/07/logo-small-269x300.png
Bill Carroll
2013-07-31 09:00:45
2013-07-30 23:58:31
History Bit: The Port of Pocahontas