The NoMa Arts & Entertainment District (NoMa stands for North Marr) is a 4-block area on North Marr Street that begins with The Gallery On The Square, across Marr Street from the old courthouse. Proceeding north in the same block is Marilyn's On The Square, featuring live music and dance.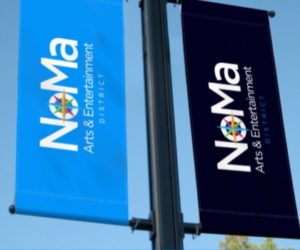 In the next block north, Uptown Bistro Italian Restaurant and Bar features wonderful dining. The side of the Bella building, along Marr Street, has fun silhouettes painted on the wall, a nice place to pose for a photo. Continuing north on Marr, in the same block, Lesmeister Guesthouse offers upscale lodging in the heart of the historic district, and a little farther north, Generations offers body art.
The next block north features the wonderful Downtown Playhouse, offering live stage plays in a coffee shop atmosphere, and across Marr Street from the Playhouse the Opera House Art Park offers an outside sitting area with landscaping. With time, we plan to add sculptures and statues to complete the park. "Opera House" refers to the old Pocahontas Opera House (see photo in the multi-picture gallery below) that once stood on the site of the art park. (Select image below to enlarge.)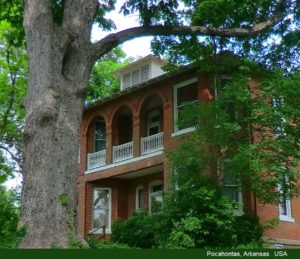 One final block north on Marr brings visitors to a nice neighborhood of well-maintained old homes from the late Victorian era.