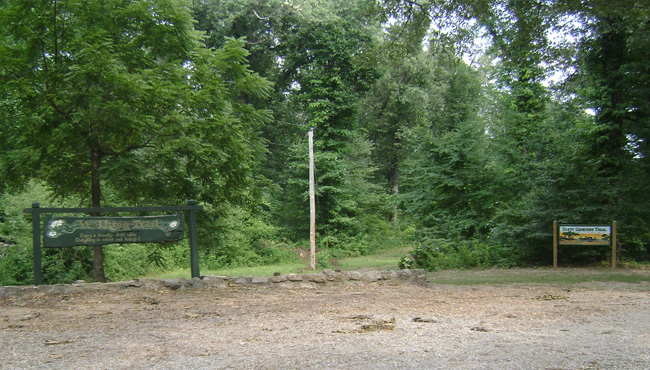 Black River Trail
Old Davidsonville State Park
Take a stroll along the banks of the Black River and walk into history with a look at the Philips/Reeves Cemetery. The trailhead, found in the histories town site, runs along the high bank of the Black River through the surrounding forest. It crosses a spillway stream near the river and continues up the wooded hillside, past the gate of the Phillips/Reeves Cemetery, to the dam on the south side of Trapper Lake.
Length: 1 mile
Difficulty: Moderate
Trappers Lake Trail
Old Davidsonville State Park
Trapper Lake Trail meanders around the 12-acre lake built in 1980 for fishing and wildlife viewing. From the Visitors Center, the trail leads down the hill, across Day-use 1 and across the bridge that spans the lake's feeder stream. The trail then takes the hikers varying distances from the lake's shoreline.
Length: 3/4-1 mile
Difficulty: Moderate
Scott Cemetery Trail
Old Davidsonville State Park
Enter a small gate in time that focuses on memories of times past. The Scott family owned and operated the ferry that crossed the Black River until 1927. The cemetery probably dates back to the time of Davidsonville. Headstones bearing unusual inscriptions recall Arkansas's early settlers. Other features include a profusion of wildflowers, flowering dogwoods, and large majestic oaks.
Length: 1/2 mile
Difficulty: Easy
Historic Site Trail
Old Davidsonville State Park
Travel back in time to visit the site of the Arkansas Territory's first post office, courthouse and federal land office. Twelve wayside exhibits tell about the history and culture of historic Davidsonville.
Length: 3/4 mile
Difficulty: Easy