Ed Bethune will launch the World War II story with a talk and book signing at the Randolph County Heritage Museum on Friday, July 22nd at 1:00 p.m.
The former 2nd District Congressman was born in Pocahontas, graduated from Pocahontas High School, practiced law and was deputy prosecuting attorney in Randolph County before becoming a special agent of the FBI.  While living in Pocahontas, his wife, Lana, taught English at Pocahontas High School.  He is the author of 3 books which are available at the museum:  Jackhammered, his memoir which includes the story of their rescue at sea in 1990; Gay Panic in the Ozarks, a legal thriller that has a photo of the Randolph County Courthouse on the cover. His new novel, A Pearl for Kizzy, has a fictional setting on the Black River.
As a long time member and supporter of the museum, Bethune will donate all proceeds from book sales to the Heritage Museum.
About A Pearl for Kizzy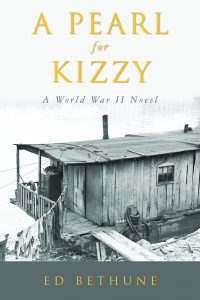 Kizzy, a spirited child, lives with her family on a one-room ramshackle houseboat in Big Pearl, Arkansas. They fish, dig for mussels, look for pearls, and sell the shells to the button factory. It is a crude life made harder by the Great Depression, natural disasters, and prejudice.
At the onset of World War II, Kizzy befriends a young boy—a refugee from Nazi Germany—and a cultured young woman who encourages her to read and learn from Jane Austen's books.
Kizzy yearns for a better life, but as she comes of age her dream of getting off the river is threatened by the evil Bully Bigshot and his Eugenics Center, a corrupt outfit that wants to rid the world of "river rats" like her through abortion and "better breeding." … And there is Cormac, the lascivious man Kizzy calls her "make-do stepfather."
Kizzy's struggle mimics today's culture war. Daring, but realistic, the novel examines love, pride, compassion, courage, hope, morality, and duty—the things that inform and shape our destiny.
https://seerandolphcounty.com/wp-content/uploads/2016/07/Ed-Bethune-photo.jpg
866
748
Jennifer Clay
https://seerandolphcounty.com/wp-content/uploads/2018/07/logo-small-269x300.png
Jennifer Clay
2016-07-12 20:13:52
2016-07-12 20:13:52
Museume to Host Book Signing with Ed Bethune