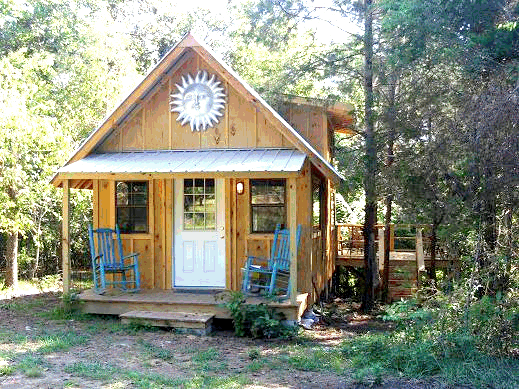 Shady River Getaway
Shady River features quiet, private "get-away" cottages on a bluff overlooking the beautiful, clean, spring-fed,  free-flowing, un-polluted Eleven Point River, in the eastern-most Ozark Mountains of northern Arkansas. Away from even the smallest town, we offer peace and quiet, with as much, or as little, activity as you want. 
Visit Shady River Online  |  Facebook
Water Valley Escape
Water Valley Escape is a 3 bedroom, 1 & 1/2 bath, fully stocked vacation home with over 1,300 feet of river frontage on the Eleven Point River – Randolph County, Arkansas.
Visit Water Valley Escape Online  |  Facebook
James Ranch
Its natural, tranquil beauty is seductive and is the perfect setting for a restful and relaxing time with your family or loved ones. The abundant wildlife lives in harmony with the people at the Ranch today. Wildlife food plots are planted to help sustain the needs of the wildlife because of the changing environment. It is not uncommon to see a herd of deer, or a flock of turkey, or occasionally even glimpse one of our national symbols, the bald eagle.
Buck Hollow Ranch
Buck Hollow is a 2600-acre Commercial Wildlife Hunting Resort licensed by the Arkansas Game and Fish Commission, just 15 miles from Pocahontas. Located on the eastern escarpment of the Ozark Plateau, the ranch is a private wildlife management and habitat experiment station, comprised of five creek bottoms among the timbered ridges and historic homesteads of our forefathers.
Eleven Point River Bungalow
Steps Away from the peaceful Eleven Point River!
Shanty Eleven Point River Cabin
It's All About That Beach! Cabin off Stubblefield Road in Randolph County. Sleeps 6. (Select thumbnail below to enlarge photos.)