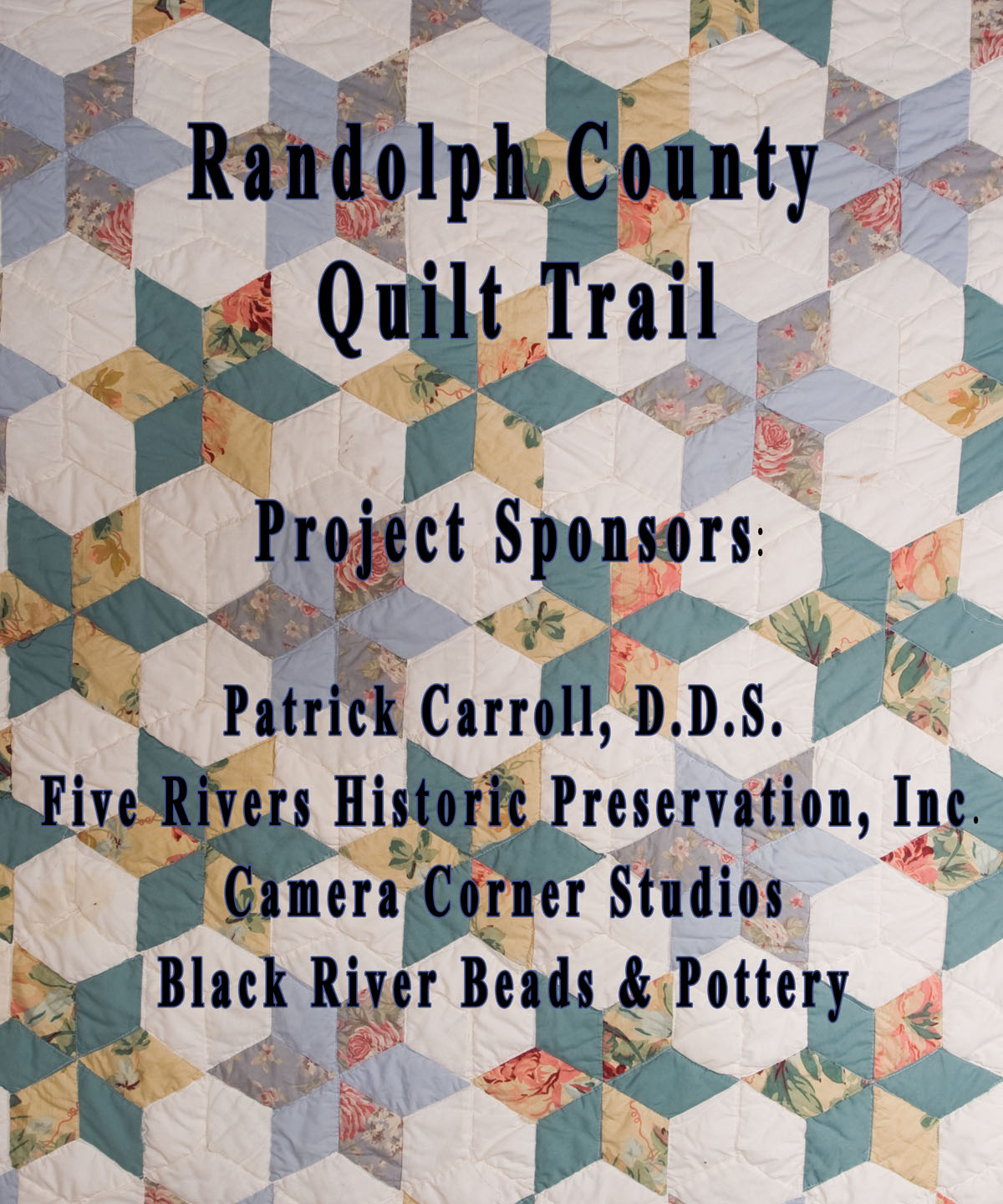 The Randolph County Quilt Trail, a collection of almost full sized reproductions of locally made heritage quilts, has been featured in a recently published nationally distributed book__ Barn Quilts and the American Quilt Trail Movement by Donna Sue Groves.
The Randolph County Trail is a project of Five Rivers Historic Preservation, Inc. and was first erected in 2009.  It was the first quilt trail in Arkansas and features over 50 quilt reproductions showcased on the sides of  buildings in the Pocahontas National Historic District.
The new book features quilt trails from around the nation including our unique local trail.  While most quilt trails are composed of paintings of a single block of a quilt on heavy plywood, the local trail reproduces almost the entire quilt on marine vinyl.
The publication tells the story of the creation of the local quilt trail and includes photographs of one of the quilts, created by local quilter Jacquolyn Weick.  The beautiful book of color photos and quilting history is now available at Carroll's Variety Store on Marr Street in downtown Pocahontas.
Sponsors of the local trail are Dr. Patrick Carroll, DDS, Five Rivers Historic Preservation, Inc., Camera Corner Studios, and Black River Beads and Pottery.  Linda Bowlin, Director of the project says "Our Quilt Trail has recently been completely refurbished with a new process that prevents fading of the quilts and with the quilts relocated to places where they're less likely to come loose from the brick walls or fade in the sun.   The quilts represent an important part of our local arts and crafts heritage and have been created and treasured by local women for centuries here in Randolph County.  I'm aware of tourists from other states who've designed their travel just to come through Pocahontas and view our Quilt Trail."Civil War River Walk Memorial Established in 2006 along the banks of Black River in Overlook Park, Pocahontas. Documents the important role Randolph County played in the  Civil War on a trail of historic markers with benches.