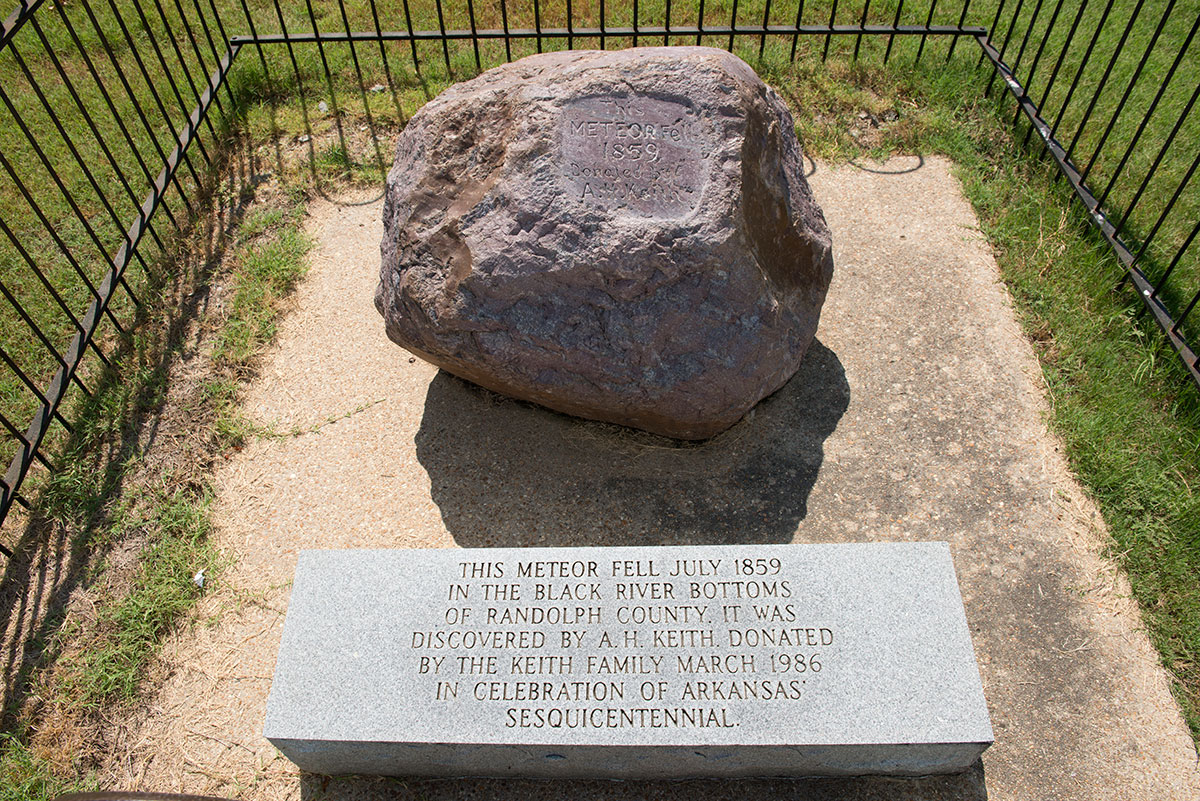 The Sky Was Falling In Pocahontas
Everybody who visits Pocahontas wants to see our famous meteorite!
In the fall of 1858, a bright light streaked across the skies of northeast Arkansas. This visitor from the heavens was the remains of a large meteor that had burned its way through Earth's atmosphere. It's fiery presence grew larger as it approached the City of Pocahontas. The meteor fell to Earth with a great explosion of fire and a great bang! It landed in a field just north of what's today Black River Overlook Park, along the river bank just across Highway 67 from downtown Pocahontas.
The great stony meteorite remained where it fell for forty years, until the town's railway station master, Oscar Keith, loaded the rock in a wagon and placed it in his front yard on Vance Street north of downtown, where it remained for over a half century. Unprotected, the stone lost over 2/3 of its size as souvenir hunters chipped off many pieces.
The meteorite was more recently moved to a spot on the Randolph County Courthouse lawn (the 1940, art-deco building adjacent to the town square, not the 1872 "old courthouse" in the center of the square). There it can be viewed today, surrounded by a wrought iron fence. The meteorite's location is near the northeast corner of the courthouse lawn, at the bottom of the large stairway off Broadway Street.
http://seerandolphcounty.com/wp-content/uploads/2015/11/meteorite.jpg
801
1200
Dr. Pat Carroll
http://seerandolphcounty.com/wp-content/uploads/2018/07/logo-small-269x300.png
Dr. Pat Carroll
2015-11-11 20:36:49
2015-11-11 20:36:49
The Sky Was Falling In Pocahontas